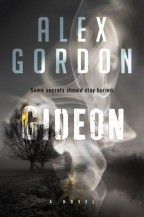 Kirkus: A seductive work of paranormal horror that will draw readers into its cold and gloomy world.
Generations ago, the people of Gideon burned a witch at the stake, and that decision has haunted the town ever since. Lauren Reardon doesn't learn that her father was a witch of Gideon until after he dies, but she finds herself drawn, or driven, to go back and dig up his secrets, and some of her own. Her actions propel the present-day plot, but the town itself is the real main character—a small, suspicious community of souls standing guard over the barrier between this world and the next. Debut novelist Gordon's witches aren't glamorous, and they deal with plenty of dirt and blood and oozing gore. The twists and turns are entertaining enough, and there are a couple of strong surprises lurking near the end, but it's the atmosphere that's the real star here. Everything in Gideon is dark and damp and cold, and everyone is nursing at least one inherited grievance. In the end, the book is as much about life in a small, closed-off community that believes "blood tells" and character can be inferred from a last name as it is about elemental magic and the struggle between good and evil.
This novel will thoroughly satisfy readers looking for suspense, horror and a grisly good time.