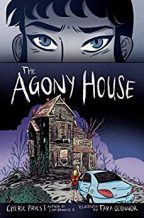 Kirkus: A white family's attempts to renovate a storm-wracked Victorian New Orleans house are complicated by bitterly contending ghosts.
The resident spirits aren't particularly reticent either, readily manifesting not only to 17-year-old Denise and her newlywed mother and stepfather, but to visiting neighbors as well—as a whiff of perfume, creeping shadows, a falling ceiling, and other ominous portents. But rather than being a stereotypical screamer, Denise has much in common (characterwise, at least) with intrepid, gun-toting Lucida Might, girl crime fighter and star of a 1950s manuscript comic Denise finds in the attic. Priest (Brimstone, 2017, etc.) ably weaves contemporary issues and a feminist strand into this fantasy as, while briskly fending off ghostly visitations and searching out clues to the house's violent past, Denise makes new friends and encounters pushback from some St. Roch neighbors rightfully leery of white gentrifiers. Highlighted by a wonderfully melodramatic climax, the author brings her plotlines to upbeat resolutions with a thrilling discovery, a revelation about the comic's author, and a degree of general community acceptance of Denise and her family. Nearly every character's race, white or black, is carefully but unobtrusively specified. O'Connor (The Altered History of Willow Sparks, 2018) inserts multiple pages from the comic and atmospheric stand-alone illustrations all printed in haint blue.
Conflicts, ectoplasmic and otherwise, laid to rest in a deliciously creepy setting.