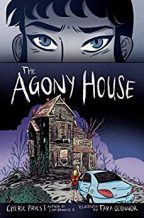 Booklist: Following up on their successful collaboration in I AM PRINCESS X (2016), Priest and O'Connor neatly weave together the history of comic books and contemporary concerns about gentrification in this eerie ghost story set in a ramshackle house that's as much a character as the people living in it.
Denise, her mom, and stepdad have just moved into an nearly destroyed, once-beautiful house in New Orleans, and almost right away, Denise starts noticing odd things. First, they're harmless, if creepy, but later, unexplained, dangerous accidents happen as they renovate the house. But the comic book manuscript Denise finds carefully hidden in the attic (pages of which appear throughout the novel) is the key to source of the poltergeists. Meanwhile, Denise's neighbors are uneasy about outsiders capitalizing on cheap property in New Orleans, and Priest does a great job of skillfully including the important conversations Denise and her family have with their new community.
At its heart, though, this is a ghost story, and Priest excels at building palpable atmosphere: Denise's parents' anxiety about their shoestring budget, the sweltering New Orleans summer heat, the disrepair of the house ("soggy plaster fell from the studs like wet cake"), and the increasingly terrifying haunting. Dynamic characters and a surprising mystery round out this sharp, satisfying, and engrossingly spooky story.