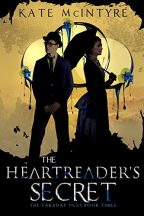 The brilliant engineer Emilia Banks has gone missing.
Deathsniffer Olivia Faraday may be partial to solving murders, but this missing persons case is too personal to pass up — especially when all the clues lead her and her assistant, Chris, to the sprawling countryside manor where Olivia was born and raised. Their investigation reveals new insights into the political conflict raging in nearby Darrington City, but every step is fraught with mysterious deaths, suspicious stalkers, and players both new and old each harboring dangerous agendas of their own.
Are the powerful traditionalists or the anarchic reformists prowling the borders of the estate responsible for the sudden disappearance of Miss Banks? And could the elusive engineer's private project truly change the world forever?