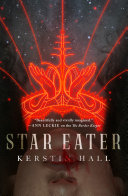 Tor.com
: Kerstin Hall's 
Star Eater
 is a stunner of a novel. As debuts go, it's up there with Max Gladstone's 
Three Parts Dead, 
A.K. Larkwood's 
The Unspoken Name
, and Arkady Martine's 
A Memory Called Empire
, and—to me, at least—a little reminiscent of all three. Hall's prose is precise and striking, her characters compelling, and her narrative—well, damn. 
Damn.
 To say nothing of the worldbuilding: the bloody, visceral, deeply embodied queerness of its reified metaphors, the personal and political freight borne by the control and regimentation of the female body and its reproductive and generative potential, flesh consumed to fuel a society built on a fundamental act of theft… there are 
layers 
here. This novel has teeth and claws and it's not afraid to use them—but it's also a lot of fun, and undergirt with a generous helping of kindness. It's absolutely fantastic. I can't recommend it highly enough.