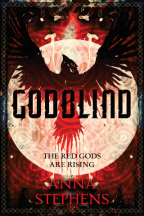 The Mireces worship the bloodthirsty Red Gods. Exiled from Rilpor a thousand years ago, and left to suffer a harsh life in the cold mountains, a new Mireces king now plots an invasion of Rilpor's thriving cities and fertile earth.
Dom Templeson is a Watcher, a civilian warrior guarding Rilpor's border. He is also the most powerful seer in generations, plagued with visions and prophecies. His people are devoted followers of the god of light and life, but Dom harbors deep secrets, which threaten to be exposed when Rillirin, an escaped Mireces slave, stumbles broken and bleeding into his village.
Meanwhile, more and more of Rilpor's most powerful figures are turning to the dark rituals and bloody sacrifices of the Red Gods, including the prince, who plots to wrest the throne from his dying father in the heart of the kingdom. Can Rillirin, with her inside knowledge of the Red Gods and her shocking ties to the Mireces King, help Rilpor win the coming war?