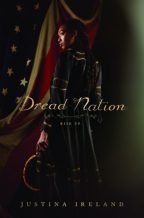 School Library Journal: Slavery comes to a halt when the dead on Civil War battlefields begin to rise and eat their compatriots. The north and south put aside their philosophical differences and join forces against the undead. They are aided in their efforts by the passage of the Native and Negro Reeducation Act which forces African American boys and girls into combat schools. Graduates from these schools are a buffer between the living and the undead.
Jane McKeen is a biracial girl sent to Ms. Preston's school of combat…about to graduate when her friend, Red Jack, asks for help locating his sister Lily. Jane's attempts to discover Lily's whereabouts land her in a survivalist colony. Survivalists advocate a disordered view of natural selection that places Jane firmly under the thumb of a vicious sheriff and his psychopathic family. She must make some unlikely alliances of her own if she is to survive long enough to find her own path to freedom.
This is a fictional exploration of the chattel slavery and American Indian boarding school systems. Ireland skillfully works in the different forms of enslavement, mental and physical, into a complex and engaging story.
A perfect blend of horrors real and imagined, perfect for public and school libraries and fans of The Walking Dead.